nxHospitality? Guided Innovation Tour 2020 | Berlin knows how to host!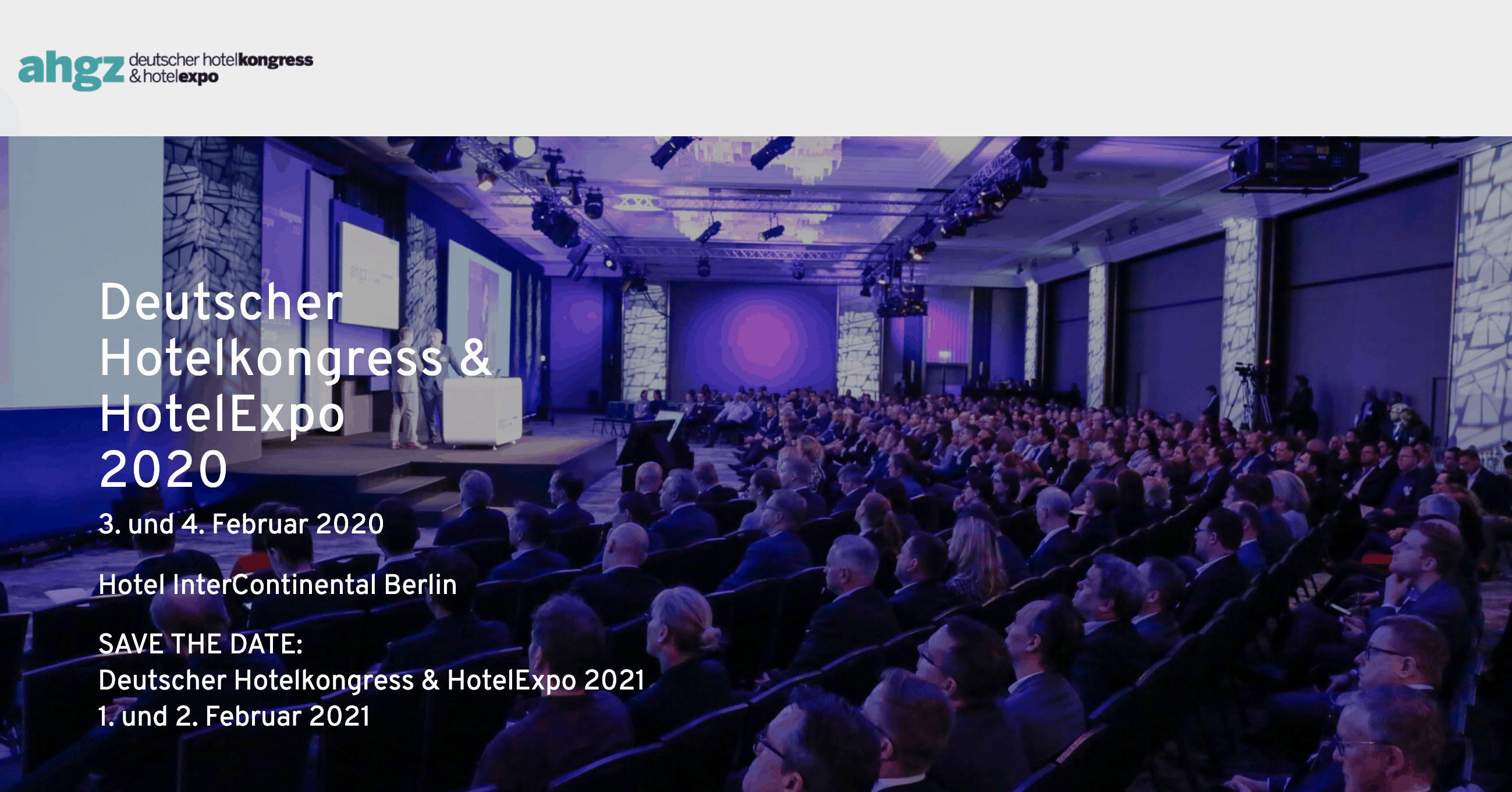 Where (to sleep) next? What's (for lunch) next? And: What's for dinner? Where to relax and where to embark on your next adventure? Cities like Berlin has become destinations and – along the way –  developed formats fo sleep overs and to fill plates so that their guests feel immersed in a Berlin Experience. One of a kind. Cool. Different. Berlin! Living in Berlin now for more than 15 years I have seen Berlin adjusting to its brand and its role as a host for a multitude of guests and their needs. Known as a city that never sleeps itself, it became a city for not only for ongoing change and thus a place to come back to, a melting pot for style and lifestyle trends and a hotspot for culinary enlightments – it has also become a place where spending  the night becomes an experience itself.
In January 2020 we had the pleasure to take the participants of the AHGZ Hotelkongress 2020 on a Guided Innovation Tour on behalf of the AHGZ and the dfv Conference group and together with our partners in c(ulinary) r(are) m(must have seen) e(xperiences) Berlin Food Tour, who were hosting the tour already for the fifth time. As there were so many participants ready to explore the German capital new stars we had to split the group in two and off we went, called Number 2, to the following three gems: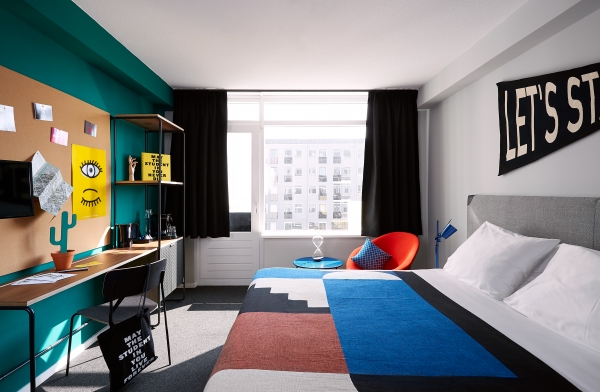 The Student Hotel boosts hospitality with a new concept – hybrid! – with almost 500 rooms: half a hostel, half a dormitory to host students for up to one year with kitchen, postboxes and more than 130 parking spots for bikes. Trendy design coupled with quality accommodation for genuine comfort, yet affordable! Their mission is not less than to create:
"state-of-the-art facilities and colourful experiences we believe will change the way we live, work and travel and that redefine our understanding of what makes a 'student'."
How? For example with a 24/7hours bar/restaurant on weekends and a backyard ready to spoil Berlin guests as well es Berliners with open air cinema,  with having more than 30 events a month to make sure students an hotel guests will mingle and located right next to Alex / tv tower, providing co-working and meeting rooms. The Hotelier of the Year | 2020 might be – and right so! – Thomas, Michael und Ann-Kathrin Mack from the Europa Park Rust but be assured you'll hardly find a better spot to celebrate super bowl evenings as the general manager Philip Ibrahim will make sure not to miss one of them himself.
What we discovered along the way: This type of atmosphere really inspires all who encounter it. The Student Hotel is a place where anyone with a student spirit – curious, open, free, adventurous – can thrive. Fancy interior design? Be sure to have your phone or camera ready to shoot!
2. Lausebengel
After this boost of inspiration we needed a beer and a snack so we headed southwest into Kreuzberg (61!), where the nights are said to be long and food and drinks are official partner of the Kiez. Our culinary gem comes by the name Lausebengel (= Tinker, rascal) a typically Berlin expression so we were expecting German food, even Berlin food such as Curry Wurst  and potato salad. We were not to be disappointed. The three guys running the newly opened restaurant on Grimmstrasse (Graefekiez) in the former Eckkneipe (traditional Berlin corner pub) Rizz, Kristof Mulack (culinary concept), Janosch Thomsen (providing the Kiez knowledge) and Tim Gräsing (taking care of the beer selection) were serving us beer first and their signature dish "Happen" second.
Happen are small bites like tapas but german ones such as Stulle, beetroot salad, celery sticks – all of them to be shared. Thanks to Kristof they are brought to the table with a twist and finesse in  taste that makes them worth a second visit. The room combines wooden bar doors, chairs and solid tables dedicated to the sharing concept of the Happen tapas, with modern art on the walls and an open kitchen: The Berlin Lausebengel welcomes you as a grown up, knowing whats good for you, how to make you feel home in an instant and come back with your next crowd of Berlin guests as soon as possible. The latest in summer, when the terrace is open, and ananas and apple cider/coconut water sprizz are being served, being only one of their creations that come in glasses!
3. The niu Hide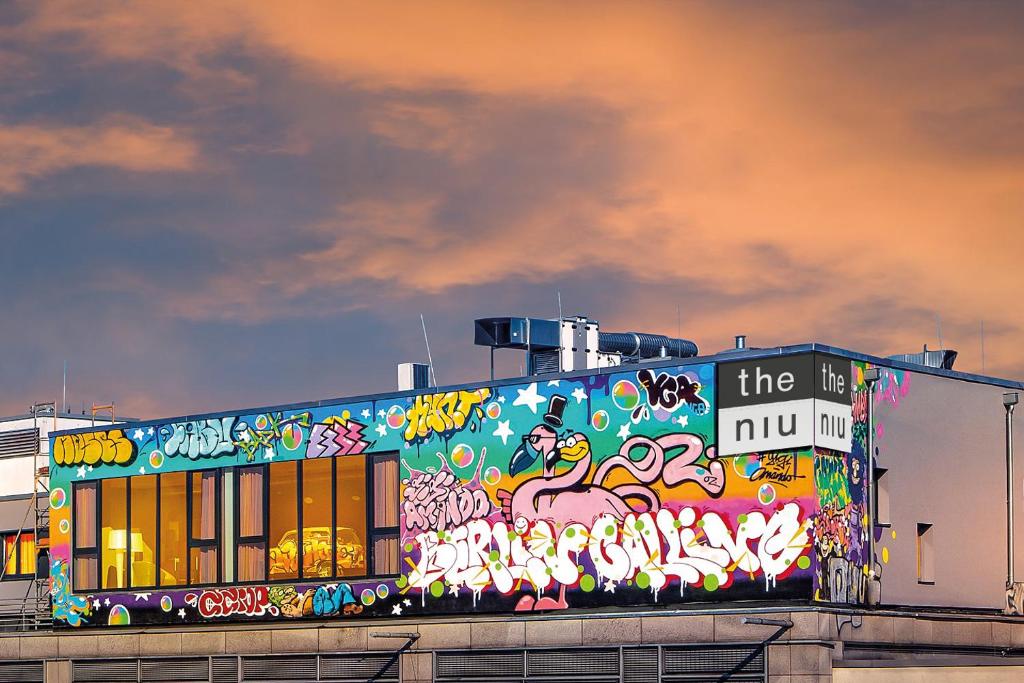 As the Happen were great but left us in need of a second drink we were looking for a bar to take another sip and why not do so with a view? At least I wanted to have my group experience one of these Berlin sunsets and thus opted to take them up to a hostel concept that you have to know about to find it as it is a hidden one: Snuggling on the highest and not anymore needed parking deck of the doubled shopping mall Ringcenter, right where Friedrichshain becomes Lichtenberg and the Berlin S-Bahn-Ring turns north west again. If you do not know about it you might just notice the street art cubus on top of the mall and you will probably miss the elevator right next to the entrance that brings you up straight in the fifth floor and into the hotel lobby which serves as a breakfast room, Berlin souvenir shop and a wine bar alltogether.
We did get our drinks, while a rainstorm was dancing outside the windows and we were given a tour through this hostel that is made out of single containers, built in Bavaria. Each of them a hotel room in itself, three sizes available, all with a bathroom and a window with a stunning view above East-Berlin. Mobile,
Big shout out to our great hosts at those three locations for your lessons in hospitality, for the insperience and the behind the scenes-tours. And for making it on time!
Ready for a tour for your team, your clients, your project? Let us create a customized "Inspirience"- Tour just for you and, if you wish, get it accompanied by a workshop and topped by some Berlin insight along the way!